AMONGST 1&0, Kingston University, London // 13th March 2020
*MOVE CLOSER* IS A MULTI-MEDIA INSTALLATION CREATED BY EDWARD TO EXPLORE OUR PRESENCE ONLINE. HE COMBINES 3D ANIMATION, CODE AND HIS SOCIAL MEDIA DATA TO CREATE AN INTERACTIVE EXPERIENCE THAT TAKES PLACE IN THE REAL WORLD DURING THE EXHIBITION, ONLINE THROUGH THE AUDIENCES PHONES, AND EVEN TRANSPORTED INTO A FUTURISTIC VOID VIA FILM.
IDENTITY IS SOMETHING WE HOLD SO CLOSE TO US - ITS HOW WE PRESENT OURSELVES TO THE WORLD. *MOVE CLOSE* EXPLORES HOW OUR IDENTITY IS ALSO AN ONLINE ENTITY THAT WE HAVE TO KEEP ALIVE BY GIVING UP OURSELVES AS DATA. BY USING COMPUTER VISION AND MACHINE LEARNING HE HAS CODED A PROGRAM THAT RECOGNISES AND DETECTS FACES AND COMMANDS THE AUDIENCE TO APPROACH THE INSTALLATION. ONCE CLOSE ENOUGH THE AUDIENCE ARE DIRECTED TO A WEBSITE CONTAINING ALL OF EDWARD'S DATA THAT HE HAS SCAPED FROM FACEBOOK, INSTAGRAM AND SNAPCHAT. IN THE ACT OF EXPOSING ALL OF HIS SENSITIVE DATA SUCH AS HIS GPS LOCATION, LOGIN HISTORY AND EVEN CONVERSATIONS WITH FRIENDS AND FAMILY, HE HOPES TO HIGHLIGHT THE OTHER WORLD OF ALGORITHMS AND DATA THAT WE ARE ALL A PART OF, AND HOW OUR PERSONALITY SPANS ALL ACROSS THE GLOBE AND IN MULTIPLES REALMS OF THE PHYSICAL AND THE DIGITAL.
AN ARTISTIC INTERPRETATION OF THIS CONCEPT TAKES FROM OF A VIDEO, WHERE EDWARD SPEAKS ABOUT THE ACT OF FEEDING THIS 'OTHER YOU'. IT COMPARES THE PHYSICAL BUILDING BLOCKS OF OUR BODIES TO THE BUILDING BLOCKS OF OUR VIRTUAL SELVES, AND IF WE DON'T CONTINUE THIS FEEDING OUR OTHER SELF BECOMES DORMANT.
EDWARD STAGES THE INSTALLATION USING A CLOTHING RAIL TO EMPHASISE THE IDEA OF IDENTITY. HE SAYS THAT IT COMBINES ALL THE FORMS OF THE INSTALLATION TOGETHER BY REPURPOSING AN EVERYDAY TOOL THAT HOLDS SO MUCH SIGNIFICANCE TO OUR EXTERNAL PORTRAYAL. THE CLOTHING RAIL NORMALLY HOLDS OUR CLOTHES, WHICH IS HOW WE EXPRESS OUR PERSONALITY TO THE WORLD - SO BY HANGING A PRINTED, LIQUEFIED VERSION OF THE ORB, TAKEN FROM THE VIDEO, IT REFERENCES THE BEGINNINGS OF HOW WE CREATE OWN OWN IDENTITY.
ACKNOWLEDGEMENTS:
 RUKIARE ZAKARIA,
 REBECCA EDWARDS AND 
ROSIE ROBSON 🧠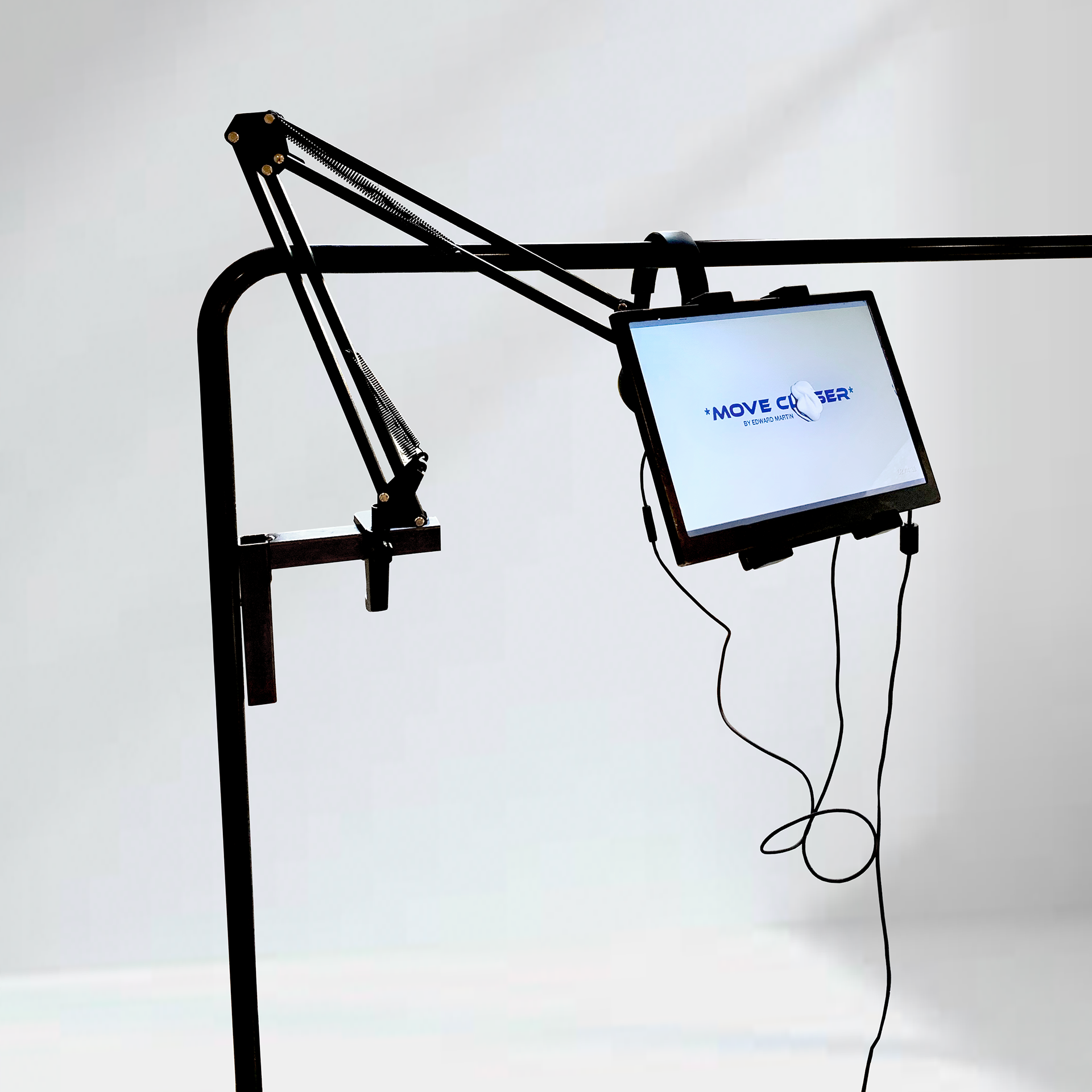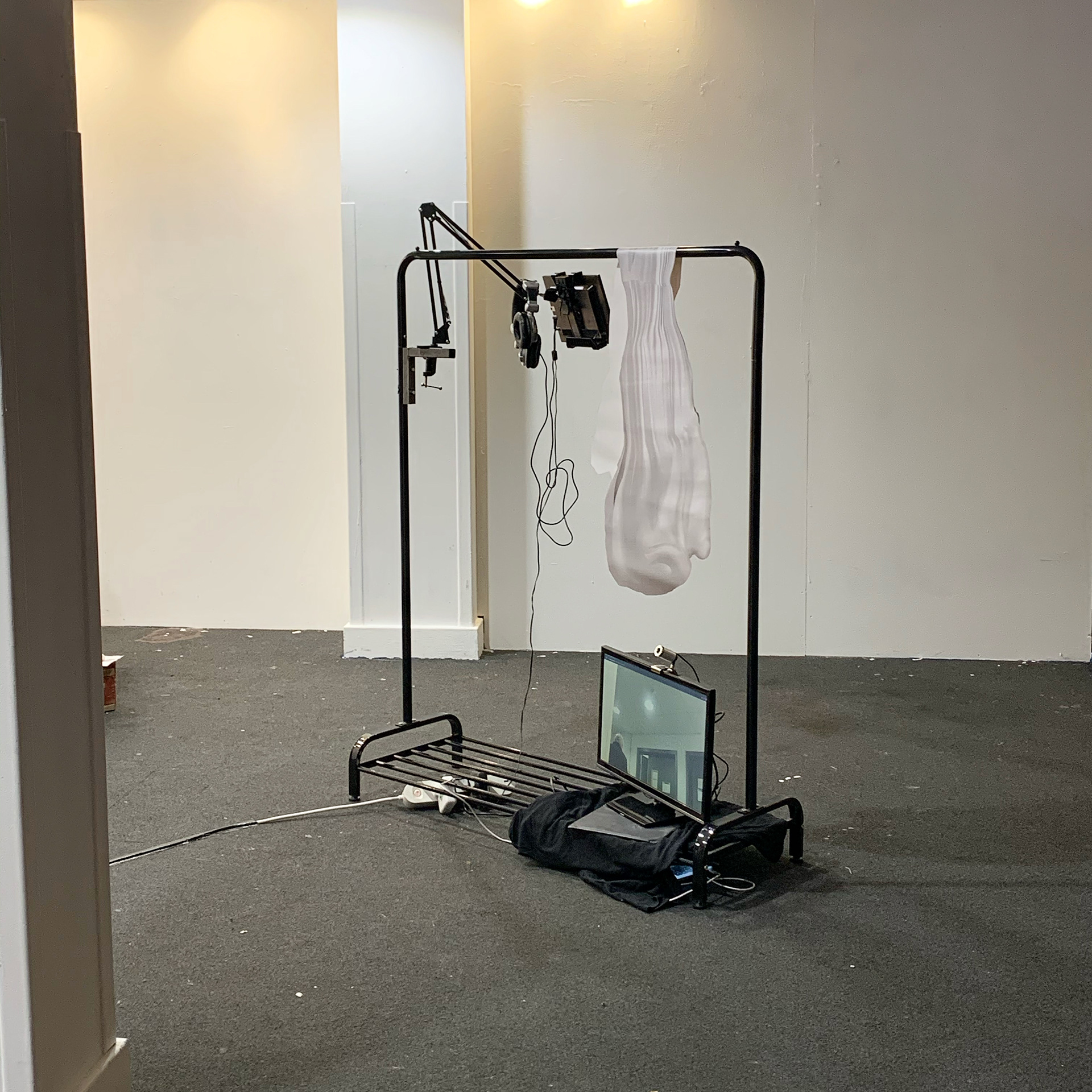 *** MY DATA IS ONLY VISIBLE WHEN THE INSTALLATION IS EXHIBITING ***